Living in a shared flat in Germany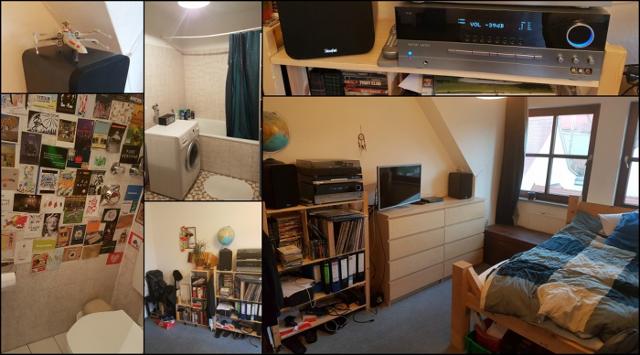 We are kicking off our blog with a little piece on living in Germany. Most younger people, especially students, take their first step into their own life when moving out of their parent's place by moving into shared flats. The obvious advantage is that it is cheaper and one has an anchor in a new city with the new flat mates. It makes the transition easier as there are always people when you get home and helps to bridge the void of absent family members at home.
Usually there are between 3 and 5 people sharing a bigger flat or even a house. Depending on the city and the size of the room rents for a room in a shared flat is somewhere between 250 to 400 Euro. The pictures above show a shared flat in Erlangen in Bavaria, Southern Germany. The rented room is 15 square meters in a flat shared by 3 people. The flat has a separate bathroom, toilet and a kitchen. There is no living room in the flat. Living rooms are usually not given in shared flats as they are mostly transformed or used as additional bedrooms to further lower rents for everyone sharing the flat. Some shared flats do have living rooms though, but it is not taken for granted.
The pictures above are a collage. If you log into our portal you can explore the flat in detail, just search for Erlangen.
We also posted more pictures of the flat on our Facebook account and on Instagram. Follow us there for more updates on living situation worldwide.
If you would like to introduce your living situation in a short blog here, get in touch. You can also simply introduce other people to your place by showing it inside TIHIL!
more blog posts